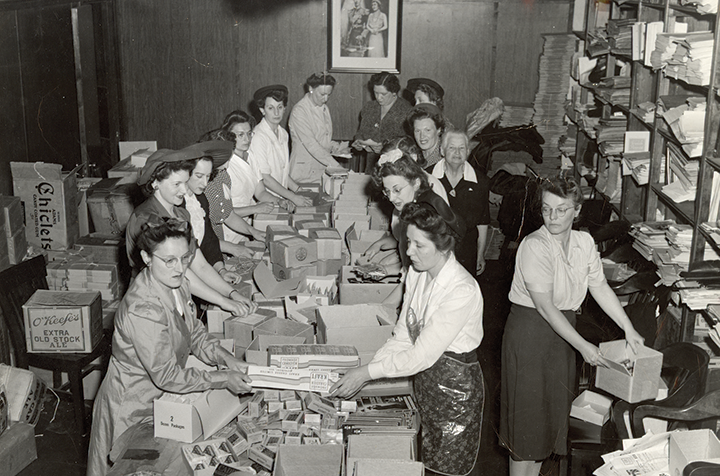 Stella Beck,i an elderly Jewish woman, is typical of most of the women I've interviewed for my thesis exploring the lives and work of Jewish women and girls on the Canadian home front during the Second World War. Stella arrived in Canada with her family in August 1939 from Europe, not speaking a word of English. In her late teens, she settled in Montreal, entered the textile industry, learned the language, and eventually met the man she would marry after the war. Her story is a dramatic one—it is one of survival, of coming to grips with a new country and language, and of contending with the guilt many who were able to leave Europe experienced, knowing they had left so many behind.
But when I first went to set up an interview time with her, she demurred, saying, "I don't really have anything to say that's important." I asked her to reconsider doing the interview and she again agreed to it, but when I called again to confirm, she questioned whether her story had any value. Luckily, Stella did consent to the interview, but her reluctance to talk, based on a belief that her story doesn't count, is not unusual. In fact, of the nine interviews completed, seven have expressed some measure of surprise that I would want to talk to them because they believed their pasts weren't important.
And who can fault them? On the whole, their contributions have been ignored. For example, preeminent historian of the Canadian Jewry, Gerald Tulchinsky, in a two-volume history of the Canadian Jewish community, acknowledges that Jewish women enlisted in World War II. However, though he includes many quotes from Jewish men who served, he includes exactly one from a Jewish woman—about a male Jewish soldier.ii Jewish women's service is rendered completely invisible.
Thus, asking seemingly simple questions such as, "Where were women?" and "What were Jewish women doing during World War II?" leads to much deeper and richer insights. For me, asking those questions leads to some surprising conclusions, namely that the work of Jewish women contributed to the Canadian Jewish community's acceptance by dominant white society following the war. Many Canadians' first encounter with a Jew was with Jewish women as they entered the public sphere during the war. Jewish men were often much less visible, as they were overseas, or they were working behind the scenes, lobbying the government on behalf of Jewish refugees or fundraising within the Jewish community. Thus, Jewish women's very public work, such as that done by the Women's War Efforts Committee of the Canadian Jewish Congress to establish and operate sixteen Servicemen's Centres across the country, brought Jewish women into contact with thousands upon thousands of soldiers and members of the public, largely making them the public face of the community, and demonstrating Canadian Jews' dedication to Canada and the war effort. Moreover, this helped to show that far from being a separate "race" as was thought before the war, Jews were actually worthy of being considered "true" Canadians, adhering to Canadian ideals, and thus white.iii By neglecting to speak with Jewish women directly, such complex histories have been missed. As these remarkable women age, we are on the verge of losing these valuable voices that could reshape our understanding of the Jewish community's place in Canadian society.
---
i My interview partners' real names are used with permission.
ii Gerald Tulchinsky, Branching Out: The Transformation of the Canadian Jewish Community (Toronto: Stoddart, 1998), 221. The quote reads: "Flt. Lieut. Durbin has left Paulson and is at Lethbridge. I would have been only too pleased to convey your regards, I also found him to be very nice."
iii For examples of the racial language used by the government, see Harold Troper and Irving Abella, None Is Too Many: Canada and the Jews of Europe, 1933–1948 (Toronto: Lester and Orpen Dennys, 1982).